1227 Reviews
REVITALIZE - REPAIR
Ultimate Nourishing Bundle
As seen in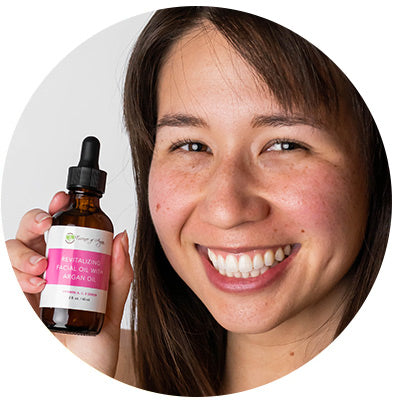 "This oil fulfills with hydrating your skin and leaving it fabulous. It is so good that I use it once a day and not twice as recommended. I only use it before going to bed and the next day my face is "show". I actually recommend it."
- Kayla
Revitalizing Serum With Argan Oil
THE ULTIMATE NOURISHER - put on a revitalized look thanks to the exclusive mix of botanicals that replenish your skin with antioxidants, essential fatty acids, vitamins A-C-E and several B's, polyphenols and CoQ10.

REJUVENATING COCKTAIL - our hydrating serum for face contains the gold standard for anti-aging ingredients- which work to restore and regenerate tissues, decreasing wrinkles and boosting your skin appearance.

ENHANCED HYDRATION - this antioxidant serum for face helps your skin resist moisture loss, allowing active ingredients to remain longer in the deeper layers of your skin, smoothing wrinkles and nourishing dry, dehydrated skin.

SIZE
2 fl. oz / 60ml


Argan Infused Repairing Serum
FIRMER SKIN - the unique formulation of our peptide complex serum promotes collagen production and deeply hydrates your skin improving its suppleness and making it smoother and firmer with a radiantly sexy look.

YOUTHFUL SKIN - the potent and profound action of Matrixyl (palmitoyl pentapeptide-4) combined with Argan oil, Aloe Vera and Green Tea restores broken skin cells blurring fine lines and wrinkles and reducing dark spots and visible pores.

HEALTHIER SKIN - treat your skin to our nourishing, protecting and moisturizing anti wrinkle serum and revive its natural glow. Made with 4x Active Peptides, Argan Oil and Certified Organic Aloe Vera, Chamomile, Green Tea and Olive Oil.

SIZE
2 fl. oz / 60ml
100% Pure Argan Oil - 30ML
ONLY ONE INGREDIENT: 100% pure organic Argania Spinosa (Argan) kernel oil, the same that has been used for centuries in Morocco. ECO-CERTified in source and origin and USDA approved
NATURE'S GOLD ELIXIR: Essence of Argan is a clinically proven potent rejuvenating, healing and moisturizing oil thanks to its rich content of fatty acids omega 3, 6 & 9 and powerful antioxidants vitamin E, polyphenols, CoQ10, melatonin and plant sterols.
A LITTLE GOES A LONG WAY: This non-greasy oil will glide on like silk, getting absorbed without leaving any sticky feeling. A few drops are enough to experience soft and smooth skin, hair and nails, from head to toe
SIZE
1oz / 30ml